My name is Madalina Moraru, I am a Romanian Business trainee studying in the United Kingdom and I am going to talk about the experience of pledging my time. Since I began working at Valencia-based startup Bounsel, I learned more in-depth about the business world and many aspects about it that were previously unknown to me. One of the most interesting facts that attracted me of this legal tech company is the desire to give back to the community acquiring long-time sustainable growth, not only focusing on gaining profits and popularity. At that time, I was introduced to the global movement Pledge 1%.
If you are not familiar with this term, Pledge 1% is a global movement based on the statement that companies could change the world through inspiring early-stage corporate philanthropy with a small commitment today that can make a huge impact tomorrow. The founders and first adopters of Pledge 1% are Atlassian and Salesforce, among others, companies that encourage and empower companies of all sizes and stages to donate 1% of their staff time, product, profit, and/or equity to the charity of their choosing. I immediately fell in love with the concept, as I believe that even the smallest companies have the capacity to give back and what a greater feeling than selflessly help people in need!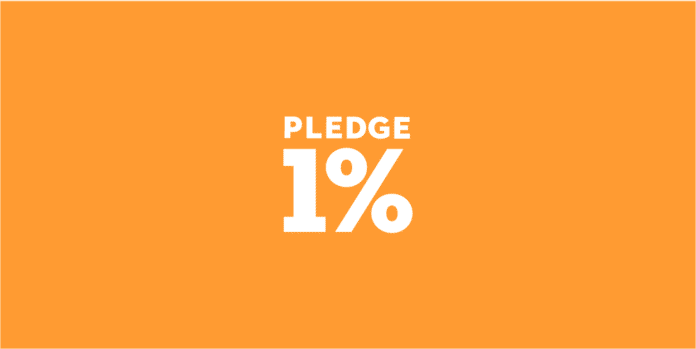 ‍
Given the fact that Bounsel is a startup, we did not have many options when it came to pledging; the founders decided to pledge 1% of the product, equity and time to social causes in order to make an impact in society. Since day 1 I was told that I could pledge my time and I started to look for opportunities aligning with the purposes of the company and mine as well. Education and women empowerment is my personal favorite social cause; therefore I decided to volunteer two hours on Fridays as an English teacher for Asociación Mujeres Unidas Aportando al Desarrollo MUAD ONG in Valencia helping women from Latin America to improve their language skills for a greater chance at securing a job.
The objective of this NGO is to unite people from different cultural backgrounds by encouraging communication, cooperation, and mutual help to create a stronger community. It aims to raise awareness on sensitive topics, for instance, gender discrimination, violation of human rights when it comes to immigrants, poverty. The association organizes a multitude of events that encourage potential volunteers to help people, especially women to integrate into society, improve their well-being and quality of life by giving practical help and advice. The association's mission is aligned with Bounsel's values of promoting diversity and the commitment of giving back, thus creating the perfect opportunity to materialize the eagerness of investing in the local community.
In the first two weeks of my volunteering program, I recall being quiet, shy and a little bit afraid of failing. I did not have an educational background in teaching and I had to use the Spanish language. These made me more nervous about the classes. I used to spend a lot of time to conduct the best presentations, to think about the most suitable topics and create continuity in the lessons while teaching valuable information to effectively help students to evolve and develop their English skills. Fortunately, I have worked in teams with three other volunteers to prepare dynamic and interesting activities and exercises.
The third week I took a very important challenge. It represented the first time I had to carry the class by myself, as my colleagues had other commitments. Someone from the NGO was supervising the lesson, in case I did not know a phrase or a word in Spanish. As I mentioned before, by then I was a little bit insecure about my Spanish skills, and I was also on my way to overcome my fear of public speaking. This lesson remains my personal favorite out of all!
I remember that I was very nervous before the class, but knowing that people put their trust in me to help them and the thought that I can create real impact motivated me to face my fear and give my best in that lesson!
The following weeks of volunteering went smoothly, as me and my colleagues took turns to prepare the lesson materials, activities and actually carry on the lessons. I could see that people were making progress, they always congratulated us on how much they enjoyed the lesson, and there is no greater feeling than seeing your work being appreciated. The final week left me with a bittersweet taste. On the one hand, I was happy I got the chance to get involved in the community and create a real impact, serving Bounsel' purpose, but on the other hand I felt sad this enriching experience came to an end.
When I reflect upon the reasons why volunteering is important, I come to the conclusion that it is not only about the impacts I can make in the lives of those less fortunate, but also the role it can play in making us more tolerant individuals and giving towards the global community. Each of us should be willing to offer our own time and expect nothing in return. As Denzel Washington stated, "At the end of the day it's not about what you have or even what you've accomplished… it's about who you've lifted up, who you've made better. It's about what you've given back."
In reality, volunteering may bring along a multitude of rewards you might never have expected. There is no greater feeling than knowing that my little contribution can make a difference in someone's life and that as an individual I am part of something greater than myself. Taking part in the community I live in led to a better understanding of my own abilities, some I never even knew I had. I am thankful to Bounsel for inspiring me, for making me consider using my time to contribute to a good cause and for reminding me of the importance of improving our society by giving back as much as possible.
At Bounsel I learned that we have a responsibility to help those that are less fortunate and contribute to the common good. Bounsel has definitely helped me find and achieve the great rewards of volunteering, and in my opinion, every company, small or large should consider the impact they are making to the community and empower their employees with a sense of purpose. Thank you Bounsel for giving me the opportunity of pledging my time!
If you'd like to learn more about how we are making an impact at Bounsel, please check Bounsel Impact. Let's give back!