Human Resources professionals can spend a lot of time managing employment contracts and documents.

For this reason, we have developed a solution that will help you reduce the time it takes to close employee contracts, improve onboarding and have all the documentation for your HR department in one place: Occupational Risk Prevention, GDPR, registrations and dismissals of employees, leaves of absence, payroll receipts, etc.

With Bounsel Flow you will be able to collaborate with your employees immediately, speeding up the hiring processes, improving corporate communication, keeping all the information organized and guaranteeing the security of your company's talent data.
Experience the new way of completing documents
Why does Bounsel Flow improve HR document management?
Employee contracts
Reduce the time it takes to hire your employees. Send the job offer to the selected candidate for a position through an interactive form so that they can fill in their data and fill out the document automatically.
Organization
Keep all HR document management under control and organized. Use the Bounsel Flow repository, categorize the information by company area and/or employee and filter to select the documentation you need.
Employee experience
Improve the experience of your employees from the onboarding stage through an intuitive platform. Each of your employees will have access to a folder with their documentation in the cloud, preserving the security of their data.
Fluid communication
You will be able to communicate with your employees through any platform by sending a link with the flow that you want them to complete through tools such as Slack, Email, Whatsapp or whatever you want.
How to manage your Human Resources documents with Bounsel Flow?
Templates
Upload templates created in Microsoft Word or Google Docs to the Bounsel flow workspace with the variables you need to fill in in square brackets. Our tool will detect the variables automatically and you will obtain a master copy to generate your conversational forms, also called flows.
Conversational forms
Flows are created from a template. Connect each template variable to a question to create the flow and share it with the employee for completion. You will get the completed document in your repository or by email as if by magic.
Storage
All employee contracts or any other employee documentation will be registered in the Bounsel Flow repository. You can access at any time, expediting any procedure and fulfilling all your labor obligations.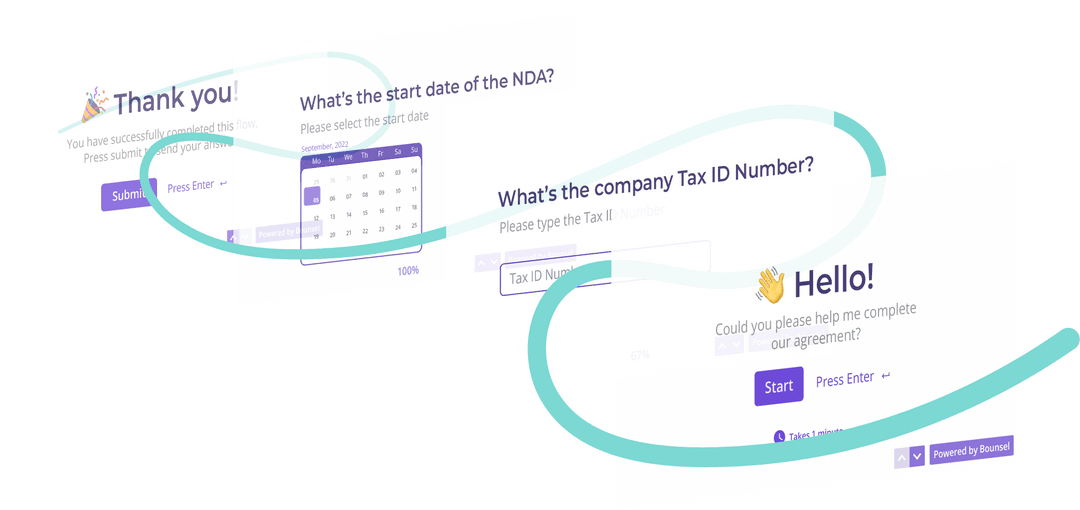 Document management software for your Human Resources department
Our priority is to help you improve the document management of your Human Resources department. For this reason, we have created a platform so that you can create employee contracts or any other document related to your HR document management, in an easy, fast and human way.
Transform HR document management with Bounsel Flow
Automate the generation of your employees' documents to improve their experience throughout their work life cycle. Save time doing administrative tasks, empower your team with a powerful digital tool, keep your human capital's sensitive information under lockdown, and access all your company's documentation in real time.
Still have a question about our service? Contact us! We'll be happy to help you!
Are you ready to optimize Human Resources document management with Bounsel Flow?
Make your team grow by treating their data in the most efficient way. Avoid long-term problems by keeping under control the cancellations, registrations, or any changes in your documentation. We have plans that adapt to the particular needs of your company and without permanence.
Digitize your Human Resources document management, it's time.